FREE SUMMER
SURVIVAL RECIPES!
Don't miss these Valentines Day Deals this year.  Special Valentines restaurant deals are a great way to save money dining out!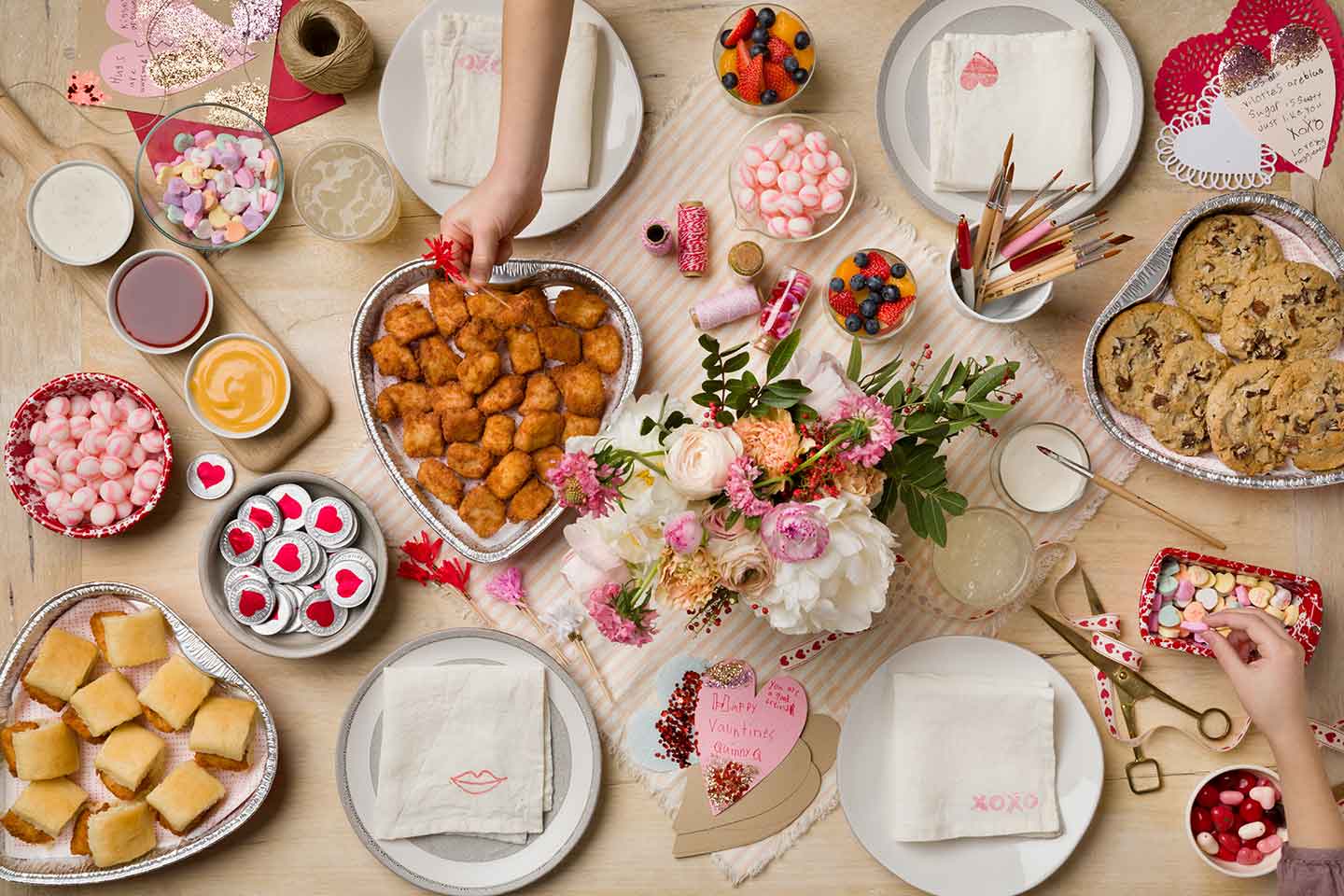 Valentine's Day Deals 2023
EEK! Valentine's Day, February 14, is almost here! Here are some special deals at restaurants around the country to help you celebrate the big day:
Do you or your sweetie *LOVE* Chick-Fil-A?  Show them you care with a romantic nugget tray from Chick-Fil-A this year!  That's right, Chick-Fil-A is once again making your Valentines day special with a heart shaped tray of Chick-Fil-A Nuggets or other treats for breakfast, lunch, or dinner!
Choose from the following options for pickup or delivery:
These special trays will be available at participating restaurants, for a limited time, while supplies last, through February 25. Check the Chick-fil-A App or contact your local restaurant to confirm availability.
This can be such a fun Holiday, however, it can be easy to go overboard and spend a lot – between dinner, gifts, flowers – it can really add up. We've gathered up quite a few Valentines restaurant deals for 2022 that you can take advantage of. Consider heading to one of your local restaurants, spending a nice dinner out, and ending with a cheap date idea! 🙂
Valentine's Day Specials 2023
Bonefish Grill – Romance your taste buds with our Scallop & Shrimp Filet Mignon, available 2/2 – 2/15, or fall in love with one of our seasonal specials. Go here for more details.
Buca di Beppo – Enjoy a Heart-Shaped Lasagna for two (with salad, bread and dessert) for $59.99 on 2/14 only. Available for dine-in or to-go – get more details here.
California Pizza Kitchen – Get a Sweet Deal for 2 from a this special menu (choose from the Classic or Adventure package to enjoy One Appetizer, Two Entrees, and One Dessert) for just $40. Valid Feb 9 – Feb 14 only.
PLUS receive a FREE Bonus Card when you order a sweet deal from 2/9 – 2/14. *Offer valid for a Free Pizza, Pasta or Salad (of equal or lesser value) on your next visit with the purchase of any Pizza, Pasta or Salad.
Joe's Crab Shack – Enjoy a 4-course dinner for two for just $75 from 2/11 – 2/14.
Krispy Kreme — Get Valentine's Day themed doughnuts available (free doughnut with app download) + free Doordash Delivery with Valentine Dozen Purchase.
Maggiano's Little Italy – Enjoy their special Amore Dine-In Menu with sweet and savory favorites for just $90 (see the menu here). Available in-restaurant Thursday, 2/9-Wednesday, 2/15.
Morton's – Enjoy an exquisite 3 – Course Valentine's Day Menu For Two for $179 from 2/10 – 2/14.
Papa Murphy's — Pick up a fun heart-shaped pizza, now through 2/14.
I don't have a lot of these Valentine's Day dinner specials near me, so I will likely use some of these Valentine's Day Dinner Ideas from this plan my friend Cheree made – oh my goodness, I just love it!
SUMMER SURVIVAL KIT SAMPLE
Download your FREE recipes now!
I won't send you any spam, ever. Promise.