Here's another great way to save through Plink! Right now, Plink is offering a FREE $10 Gift Card with ANY McDonald's Purchase.  Select a free gift card at Amazon, Walmart, Target and other popular retailers.
Here's how it works:
Create a new Plink account, and register any debit/credit card (whichever one you use to eat out with most ~ I'm hoping you're using a debit card!)
Make ANY McDonald's purchase by 9/8/13 and receive 1,000 Plink Points – enough to redeem for a $10 Gift Card of your choice at places like Amazon.com, Target, Walmart, Kohls, Starbucks and more!
This is available for new Plink members only, and 1,000 Plink Points will be awarded within 7 days after the McDonald's transaction
When you use your Plink-registered card to buy food, shop or travel at select retailers – you earn points. A $5 Giftcard is just 500 Plink Points.
So, if you spend $50 you'll earn a $5 Giftcard to Amazon, Target, Walmart, Kohl's, Groupon, Starbucks, GAP, and more!

Spend $5 = 70 Pts

Spend $15 = 150 Pts

Spend $20 = 200 Pts

Spend $25 = 250 Pts
And, to double check that it's safe, here's more information . . .
Plink is a Better Business Bureau business that has been featured in the Wall Street Journal, Forbes, Bloomberg and TechCrunch publications. Your information is very secure – Plink uses the same 256-bit encryption and physical security that banks use and their practices are monitored and verified by TRUSTe and VeriSign.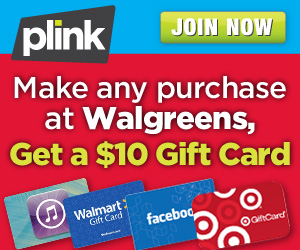 And, if you're a Walgreens shopper you can also get a $10 gift to Amazon, Target, Walmart, Kohl's or more when you make ANY purchase at Walgreens. That means you can sign up for Plink, go in and spend just $1 at Walgreens, and get your free $10 gift card. Woot!  This is available for new customers only, and valid only through 9/15/13.


If you're new to Plink, this is a great time to get started and start saving!
Love a bargain? Find more free stuff HERE.
CELEBRATION MENUS & GROCERY LIST!
Download your FREE sample menus today!
I won't send you any spam, ever. Promise.