If you're looking to get some cute new shoes or sandals for Spring – this is an INCREDIBLE offer!
Hurry over to JustFab where first time customers will get 75% OFF their first style!  Choose from literally tons of styles – with cute summery sandals as low as $4.24!
Some of our favorite styles:
PIA T-Strap Sandals from $4.24
Cute Spring Sneakers from $6.24
Other Boots starting at $6.24 (These Micah Rain Boots are only $10 and SO CUTE!)
Here's How to Get This Deal:
You'll unlock an offer for 2 Styles for $29.95 + FREE Shipping, or ignore that and just pick one item for 75% OFF (shipping adds $4.95)
I f you don't want to continue as a member for $39.95 per month, cancel after your first order arrives by calling the VIP customer service at 866-337-0906
OR you can stay on and get member-exclusive deals on shoes, accessories and styles each month
🔥🔥HOT TIP: On orders over $25 you'll automatically receive a FREE Magazine offer!  You can actually choose to get a $10 refund instead of a free magazine by filling out this form here.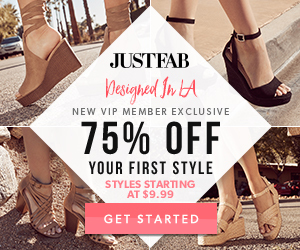 My friend Jamie got used JustFab to get new winter boots when this offer came around last year!
I was looking for a pair of stylish wide-calf boots that I could wear with my skinny jeans and I didn't want to spend much at all.  I tried the JustFab offer and took a chance on these boots because of their 5-Star reviews.
I was pleasantly surprised when they arrive and actually looked and felt like $45 boots!  They are comfortable and fit my wide calves OVER top of my jeans – which I'm so so happy about!  I love the sweater cuff detail and wraparound buckle design.
SCHOOL SUPPLY PRICE CHEAT SHEET!
Download your FREE cheat sheet now!
I won't send you any spam, ever. Promise.